Little Ninja Turtles
Preschool Ages 4-6
The Little Ninja Turtles program was developed specifically for preschool age children ages 4 through 6. This program offers children a strong foundation in essential character qualities such as courtesy, respect, and discipline. In addition, this program is designed to improve children's motor skills and enhance their ability to pay attention and follow directions. This program works in conjunction with the Karate for Kids program, thereby emphasizing the same important monthly themes and value system.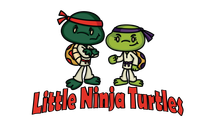 Fast-paced, fun-filled classes are approximately 30 minutes long. The key is the emphasis on advancement and growth based on each child's individual pace. Classes become more challenging as each child demonstrates the readiness to accept more complex skills. Children will begin to grasp the concept of self discipline as they achieve goals. When he/she tackles more difficult goals, the self-confidence grows and serves as a strong foundation in all aspects of life, including academics, sports, arts and socially as well.
The Little Ninja Turtles program is the perfect choice for your preschooler. Your child will have fun while learning developmental skills, all within a safe, healthy and exciting environment. Our program works unlike any other children's activity simply because it has the perfect blend of fun and learning. This program helps:
Increases Attention Span
Builds Confidence
Increases Hand-Eye Coordination and Motor Skills
Develops Sharing and Social Skills
Decreases Parent Separation Anxiety
Certified Instructors
Karate Kids
Grade School Ages 7-12
There are many reasons for children to become involved in the martial arts. Our Karate for Kids program is based on a lifetime learning concept in addition to the technical skills of traditional Taekwondo. The building blocks for our system are monthly themes. Karate for Kids develops greater self-esteem, discipline and leadership skills while learning basic self-defense maneuvers.
Reward System Improves Children's Self Esteem
Our belt and award systems are the keys to building self esteem. When kids earn their belts, it gives them a great sense of accomplishment that really improves the way they feel about themselves.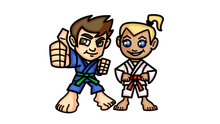 Our Program Teaches Children Discipline
We have a trained staff of patient instructors who love to work with children, but are also very clear about limits. We enforce good rules and behavior in class and we expect the same good behavior at home and in school.
Our Activities Channel Children's Aggression
Many doctors have prescribed our school because of the positive outlet it gives the kids for all their energy. In fact studies have shown that children who learn Self Defense become more assertive & less aggressive.
Self-Disciple + Self-Defense = Self Confidence
Children who know how to defend themselves usually don't have to, because they carry themselves in a more confident manner, and confidence alone is a deterrent to bullies.
Adult/Young Adult Martial Arts
We train our students to the best of their ability. Some students come to us in shape, while others have come to us 100 pounds overweight. Most students come to us with limited flexibility. Adults start at any age, as we have had some adults who started as late as age 65, and have still earned their black belts. As a student, you are looked upon as an individual, never compared to anyone else. Our instructors will be there every step of the way. All that is expected of you is a willingness to try.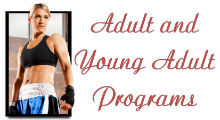 Here are some benefits you can expect from training in Taekwondo:
Fitness – The principals of Taekwondo techniques are based on the design of your body. For power you develop the larger, powerful muscles of the torso. The speed of the techniques comes from the fast, agile muscles of the arms and legs. As you progress in Taekwondo you will learn to coordinate this speed and power, and develop a concentration to focus all of your body's strength into small, hard striking surface like the edge of the hand or the heel of the foot.
Self-defense – When the speed and power developed through Taekwondo is used in the self-defense situation against the soft vulnerable parts of an attacker's body, the result can be incredible. Taekwondo allows a woman to emphasize many of her natural physical strengths, such as power in the legs, while learning a method of self-defense efficient against a much larger opponent. Knowing that you can defend yourself, your confidence will grow. And confidence alone is usually enough to deter potential attackers.
Self-confidence – This does not come naturally for many people, but self-confidence can be developed over a period of time. Through Taekwondo, as you accomplish new goals, your confidence level increases. Taekwondo instills a sense of discipline and self-confidence that can carry over to all aspects of your life.